Water Sampling, Testing and Analyses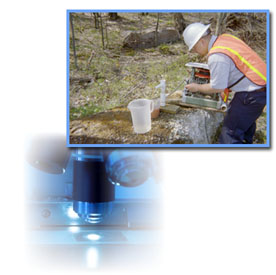 MAS specializes in a specific variety of inorganic water sampling, testing and analyses services for the mining industry designed to meet the requirements of the PADEP and their guideline that mine operators analyze water samples down to the levels of the EPA Clean Drinking Water standards. More specifically, this guideline is that the laboratory Lower Quantitative Limit (LQL) for each element being analyzed (i.e. any resulting analysis preceded by a "<" sign) is less than the EPA Maximum Concentration Level (MCL), even for samples containing high levels of contaminants such as acid mine drainage.

MAS's sample pickup area includes southwest Pennsylvania, western Ohio and northern West Virginia and Maryland. Coal and water samples collected by our customers are picked up on a daily basis or as required under special circumstances. Alternatively, MAS offers water collection and sampling services including stream sampling, NPDES, groundwater and well sampling.